Curious where to begin?
Get A Free Estimate

BEFORE & AFTER PRESSURE WASHING MAGIC
PRESSURE WASHING AUGUSTA, GA
Your house is one of the biggest investments you'll make in your lifetime. Pressure cleaning is one of the most affordable ways to increase your home's value as well as restoring and extending its life, while improving your homes appearance. Pressure cleaning your home's exterior, deck, or driveway is an inexpensive face lift that not only cleans up the built up dirt, grime, and mold but it also helps your home look like new again. When it comes to cleaning the outside of your house, your deck, sidewalk or business let the professionals take care of it for you.
Many homeowners are under the impression that they need pressure washing services once a year, after pollen season. While this is certainly a great time for pressure washing to happen, it may not be the only time of the year it is needed. Those who live in humid climates, stormy environments and near lots of leafy trees may require pressure washing more often, in order to combat the growth of destructive mold, mildew and algae. Not only are these growths unsightly, they can also be damaging to exterior surfaces, and even dangerous (green algae is slippery, black mold is toxic).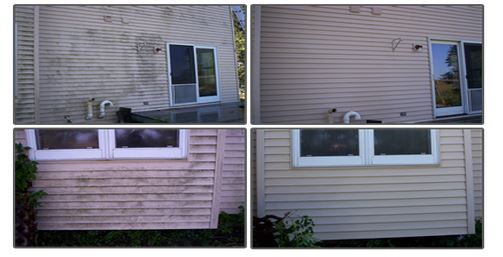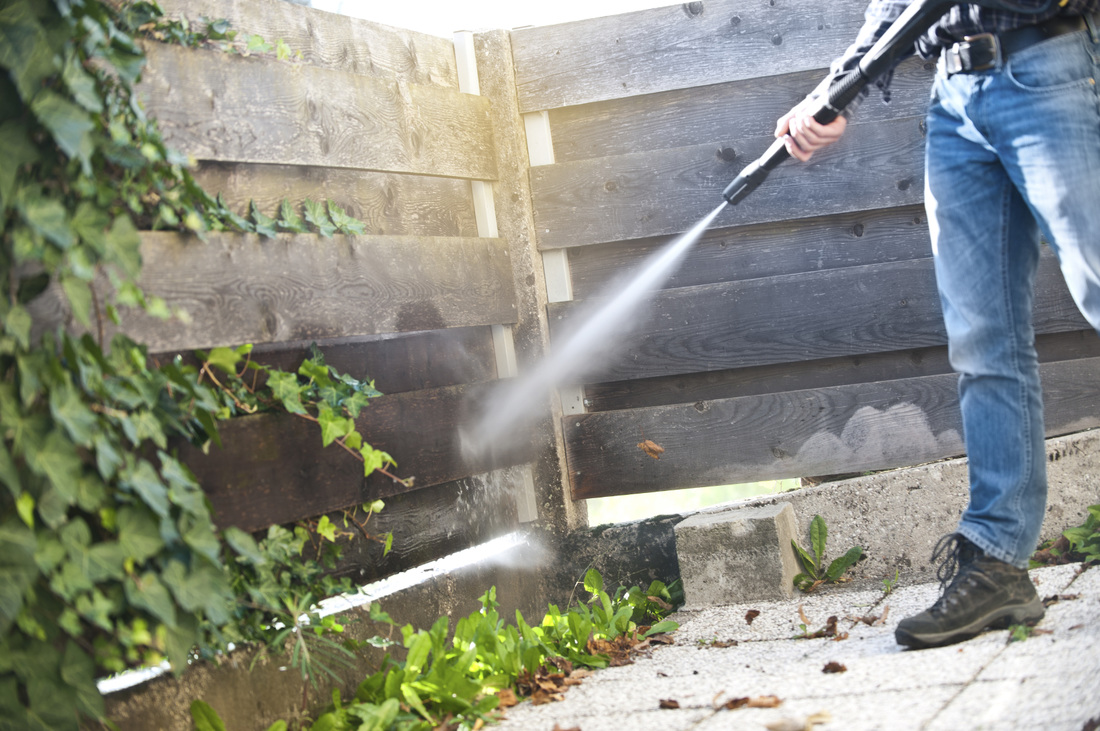 The term "pressure washing" is actually a misleading title for the service that we provide to homeowners. When we wash the exterior of your home, office or other property, the amount of pressure that we use is comparable to that of a garden hose. The water is basically an agent for the gentle, yet effective soap cleansing solution, as this is what really breaks down the dirt and growth on your exterior surfaces. In fact, the solution that we use is so gentle that it can safely clean patio furniture, fences, decks, driveways, rock and stone surfaces and even children's outdoor play sets.
It is our goal to be your preferred provider of residential and commercial pressure washing services, and your satisfaction is of utmost importance to us. Our job is not complete until we know that you are thrilled with the results of our work. If you are unable to be present during the appointment, we will return to your property if there is anything we missed. Please call us soon to schedule an appointment.
Clean N Brite TERMS OF SERVICE
Here at Clean 'N Brite we want all our clients to understand our service expectations. We feel it is important to be fully informed on the services and our expectations. Please fully review and let us know if you have any questions or concerns about any information contained in our agreement.
Description of Binding Agreement
These terms and conditions serve as a binding agreement between the property owner, hereby identified as "client" and Clean "N Brite and its owners, employees, and subcontractors, hereby identified as "company," for the execution or services in exchange for payment for residential or commercial exterior cleaning services to include pressure washing. The services that Clean 'N Brite provides to you are subject to the following terms and we reserve the right to update the terms and conditions any time without notice to you.
Authorizations:
Client agrees to allow company on the property for the purposes of completing cleaning services requested. Client understands that the cleaning service will be completed in the timeframe given during the estimate. Due to unforeseen circumstances such as bad weather, the cleaning service may need to be moved to the next available business day. Client understands that the company will do their best to accommodate for a quick reschedule but must work around other scheduled clients and weather. Company also has the permission to visit the property with little or no notice to assess service needs prior to the date of service, as well as to check completion after services have been rendered.
Client agrees to allow company to utilize their residential water source via outdoor spigot, which will be turned on and easily accessible on the date of service. Crew members are to inspect any spigot before cleaning to ensure there is no damage to area and inspection after. Clean 'N Brite will not be held accountable for previously damaged spigots. Client will be informed of any previously noted damage. Clean 'N Brite will not be held accountable for any issues within or outside the home that is not related to the cleaning service.
 Risks and Releases of Liability Acknowledgement
Clean 'N Brite technicians are well trained in the equipment used in the cleaning industry and take extreme precautions in making sure the company does not cause harm to your investment. Clean 'N Brite uses safe techniques with the use of low pressure on delicate surfaces such as siding.
On the date of service, the company will note any pre-existing damage and take photos of noted damage. The office manager will notify client of any damage before work along with supporting documentation. If any new damage is found during the cleaning process, the company will cease all cleaning efforts until the client can see the damage and acknowledge its existence.
PLANTS: Client understands that the company has set procedures to ensure plant life around the area of cleaning is protected. Client understands that their wash could be scheduled during midday sun and there could be potential for leaf burn as water can get on and around the plant during the cleaning process. If any issues arise with plant life around the area of cleaning, the company will evaluate to see if plant life suffered from leaf burn and will recover or if it has been killed. Company will then determine plan of action after evaluation of plant life.
House wash Acknowledgement
Client understands that any blemish or flaw or any existing oxidation will be more noticeable after cleaning. Vinyl sided homes that have not been maintained or has contact sun exposure will be susceptible to oxidation. Signs of oxidation are as follows: chalky white powder on siding and the clear luster removed. Please understand if your home suffers from oxidation, you may see this difference after a cleaning. When home is covered with debris, those blemishes may not stand out as much as it would be after it has been cleaned. Most of the time those issues are pointed out to the client during estimate inspection or during cleaning process. Client understands that company may not find every flaw and is not reliable if it is more noticeable after wash unless it is found to be of negligence on company end. Client also understands if we do a site unseen estimate based off provided photos that we will not be able to note any flaws in exterior surfaces. If we do a site unseen estimate, client understands we are not reliable for any unacknowledged flaw and will do our best to point this out at date of cleaning. Client also understands that our cleaning solution is specifically designed for our cleaning services and it will not cause any discoloration or damage to the siding.
Windows: Client understands that during the house wash service they will receive a basic window cleaning. This is different from windows being done with a purified water-fed pole system. We recommend removing your screens to allow any debris between the window and screen to be rinsed away in a house wash. Removing window screens will allow the company to thoroughly clean windowsills and leave the windows streak-free. If screens are not remove, company will not remove them. Screens are delicate and if they are brittle, they can break. Company does not remove screens due to this.
 On the Day of Service:
Please have a water spigot activated and accessible
Please have all windows and doors shut tightly
Please have screens removed for better rinsing between windows.
Please have all pet's inside before and during cleaning.
Please clear the work areas of all items and remove all sensitive materials from the areas being washed such as flags, doormats, and vehicles
While the company has implemented procedures and processes to cover electrical outlets, we suggest the client shut off power to all exterior outlets that are not covered with exterior covers.
Exclusions & Limitations:
A $50.00 cancellation fee will be assessed if client cancels service without 24-hour notice, or if the company arrives and cannot wash due to steps 1-4 not being completed.
A fee of $50 will be assessed if company returns to site to review a noted issue or complaint and is found to not be caused from improper cleaning by crew. Example: We complete a house wash in the morning and get a call in the evening stating there is remaining debris on the siding. We do a full review with designated crew and field hand checklist sheets first. We return to the site to review the area. We find out that lawn care services were done that afternoon. The debris on siding was created after we completed the wash. This is not considered at fault of the company).
If water intrusion occurs, the company will not be held responsible. We make every effort to prevent this but due to unavoidable issues such as bad seals around windows and doors and cracks in concrete foundations.
Notify the company if there are any surfaces on or near the home that cannot have any form of our cleaning solution on them. If we are failed to be notified of this, the company is not responsible for any ill effect on any surfaces.
If Any Damage Occurs
Clean 'N Brite will be obligated under our terms and conditions for any damage that was a direct result of operator error, negligence, or willful misconduct. Damages must be discovered and reports to Clean 'N Brite within 3 days of completion of service. The company will be allowed 30 calendar days from the date of written receipt to inspect the premises and have the sole option in repairing any damages that was result of negligence. This is void and shall not apply to any repairs, adjustments by an individual or entity other than Company or its authorized representatives.
Neither the sales personnel of CNB nor any other person authorized to make any warranties other than those described above to extend the duration of any warranties beyond the time period described above.
Payment Terms
Payment is due upon completion of work unless other arrangements were made between the client and company. If a different arrangement occurs, this will be documented and signed by both parties. We accept all forms of payment to include cash, check or credit. If paying with credit card, we accept payment through our office for privacy and security of our client's information. There is a 3% convenience fee on credit card payments. Any invoice or scheduled payment over 10 days past due will be subject to a late fee of 16%.  If payment is not received within, 30 days of past due, Clean 'N Brite reserves the right to file a civil claim to collect outstanding debt. Any legal fees incurred will be added to the unpaid balance of the client. Clean 'N Brite also reserves the right to refuse to continue business with client who is currently past due or who has been 30+days past due more than once..