The holidays are quickly approaching, and soon it will be that time of year where we all resolve to do things differently than we did the preceding year. If your goal is to cut energy costs over the holidays and going forward, there are a lot of simple changes you can make, that when added up, can end up saving you a lot both during the Christmas season and well into the new year and beyond. The key to energy efficiency resides in choosing the best materials and equipment to both keep up with the demands placed upon them, while also finding those systems there are within your budget.
What to Look For
Over the past several decades, many manufacturers and brands have gone to great lengths to both provide renewable energy options and cost-cutting ones. From electricity to water heating, looking around at all your options is the best way to make an informed and wise choice. At Clean 'n' Brite, we work closely with all of our customers to provide the latest technology, work within budgetary constraints, and give you all the options that are available to save you money and reduce your carbon footprint for a cleaner environment.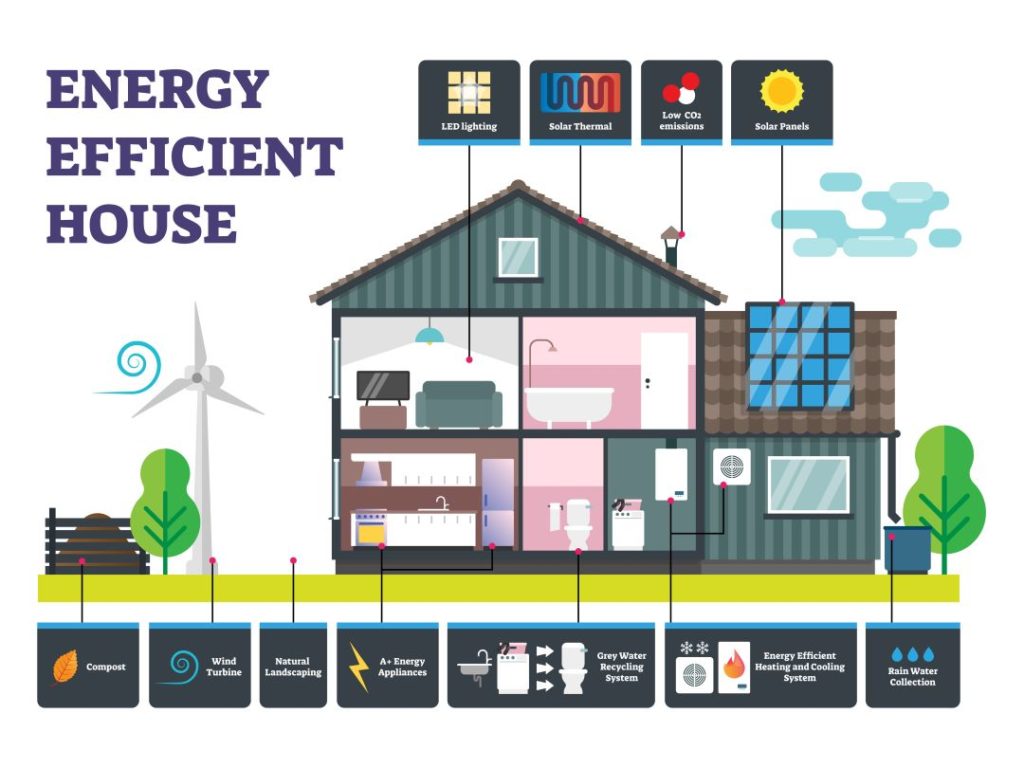 First Steps: Energy Efficiency Assessment
If you are remodeling an existing home, your first step will be a home energy assessment or "energy audit". Once you have fully examined where you are energy consumption-wise, it will become easier to make a road map to where you ultimately want to be.
Whole-House Approach
When designing and building a home, you want to optimize all energy-efficiency options. A whole-house system is an approach that helps to ensure you are using various details, variables, and interactions to find the most energy-saving tools at your disposal. Things like the region you live in, where your home resides, and how much natural light you have. Systems to consider:
Air sealing and insulation
Home electronics and appliances
Daylighting and lighting
Water heating
Space cooling and heating
Doors, skylights, and windows
Another thing you will want to look at is your Home Energy Score. It is a rating system that was originally developed by the US Department of Energy. The report gives an overall score of how efficient your home is. Then there are the resources and tools available to improve your savings and cut costs. The rating takes into account things like cooling, hot water systems, and heating. It is a useful tool to find ways to improve your home's energy efficiency. The higher the score, the more you save!
Ultra-Efficient Homes
The objective of an ultra-efficient home is to combine everything from your construction materials, lighting options, heating and cooling, and solar electricity. The key is to take advantage of your local climate and regional conditions. The goal is to find as many ways as possible to cut costs, reduce your carbon footprint and use renewable energy systems.
Advanced Home Framing
For those who are building a new home or significantly adding on to an existing one, advanced house framing or optimum value engineering might be a good choice. The goal is to reduce water and lumber, while also improving energy efficiency in a home that has a wood frame.
Cool Roofs
A cool roof uses a reflective material that absorbs less heat and reflects more light from natural sunlight. That keeps your home cool in the summer and warm in the winter.
Passive Solar Design
A good solar design takes into account where you live and the climate conditions and then uses the most advanced and efficient systems to provide both heat and cooling all year-round.
At Clean 'n' Brite, our goal is to provide the most advanced energy systems to help our clients live comfortably year-round, while also reducing costs and being more eco-friendly. We work closely with our customers to ensure that we are always choosing the best options for your home from start to finish. The only way to make an informed decision is to know all of your options. We have the industry knowledge and savvy to make sure that you get the best, within budget, and on schedule. Contact us today and let's see how we can make 2022 more energy-efficient for you and your family!